John Munsinger (1817 - 1917)
My great-great grandfather was apparently quite a character.  As reflected in the newspaper article below, in his senior years, of which he had many, he was fond of relating a story about his birth in the village of Bruchmühlbach, located in the modern state of Rheinland-Pfalz, Germany.  This was a story which began with a kernel of truth and then received major embellishments.  It is true that he was born at Bruchmühlbach.  It is also true that his second great-uncle Joh. Adam Munzinger (1765 - 1839) built a large house with stables and guest accommodations in Bruchmühlbach, and that this house became an imperial "poststationshaus" or post station house on the kaiserstrasse, which was the main east-west road through that region during the Napoleonic empire.  The house, stables, and watering trough are all still there today.  It is logical and most likely true, according to the German Munzinger family history researchers, that Napoleon would have spent a night in the Bruchmühlbach post station house during his ill-fated 1812 military expedition to Russia, and that young Johann Christian Munzinger (known in America as "John") would have heard this story from his father, Christian Adam Munzinger.  However, at some point in John's retelling of the story, it seems that the house actually belonged to his father, and that the Empress Josephine was kept awake that night by the crying of the infant John Munsinger.  To make that juicy piece of drama true, it would have been necessary for him to have been born in late 1812, not in December 1817 as per the churchbook christening record at the Evangelical Lutheran church in Lambsborn.  So, while his age in the U.S. censuses appears to be approximately correct from 1850 to 1880, by the 1900 census he had gained 5 years.  Before his death, to avoid any quarrels among his 11 living children, he directed that all of his available money be spent on a very nice headstone, and on that headstone in the Green Center Chapel cemetery in Jones County, Iowa is inscribed his date of death and his age "104 YRS 9 MS 11 DS", which is 5 years too many.  I think some or all of his children must have known the truth, but he was reportedly "cantankerous and hard to live with, until he was 100", according to my grandmother, his granddaughter (born 1899).  So probably they did not care to contradict him.
∞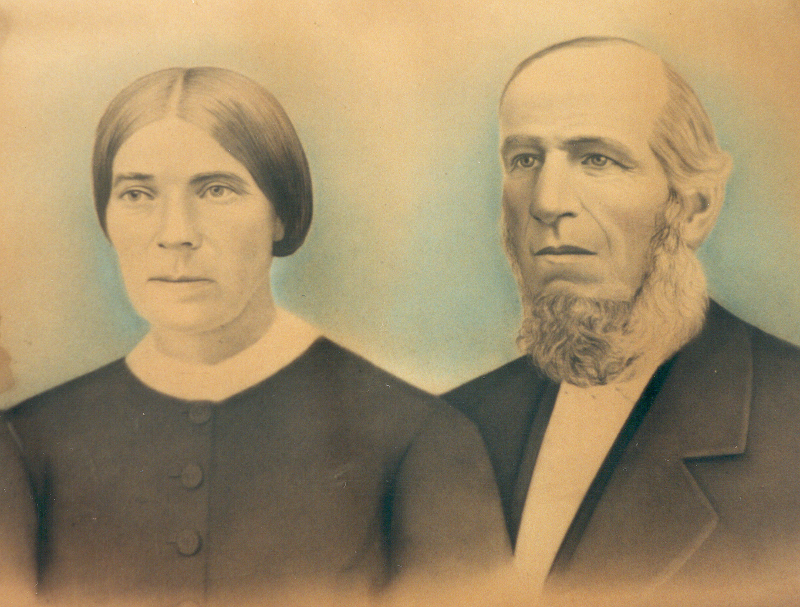 Julina Fuller and John Munsinger, circa 1865
John Munsinger house north of Oberlin, Ohio, photo about 1935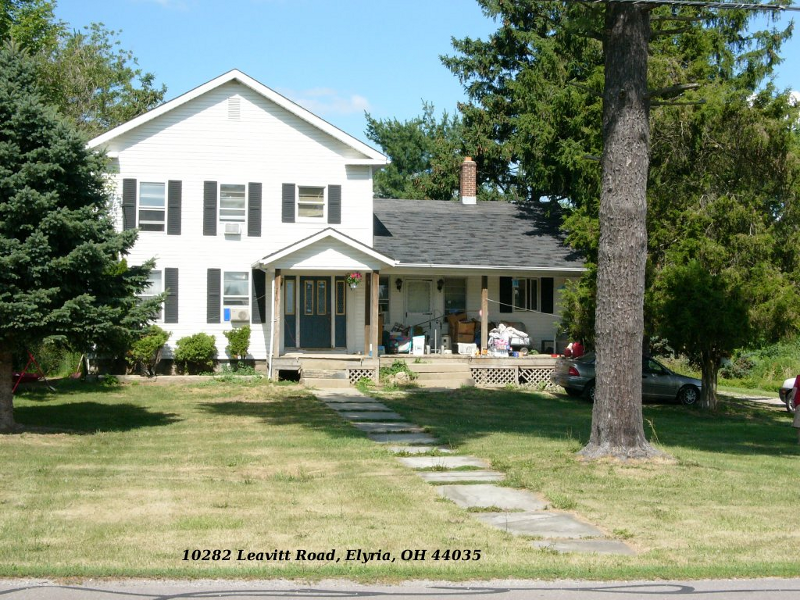 John Munsinger house, 2007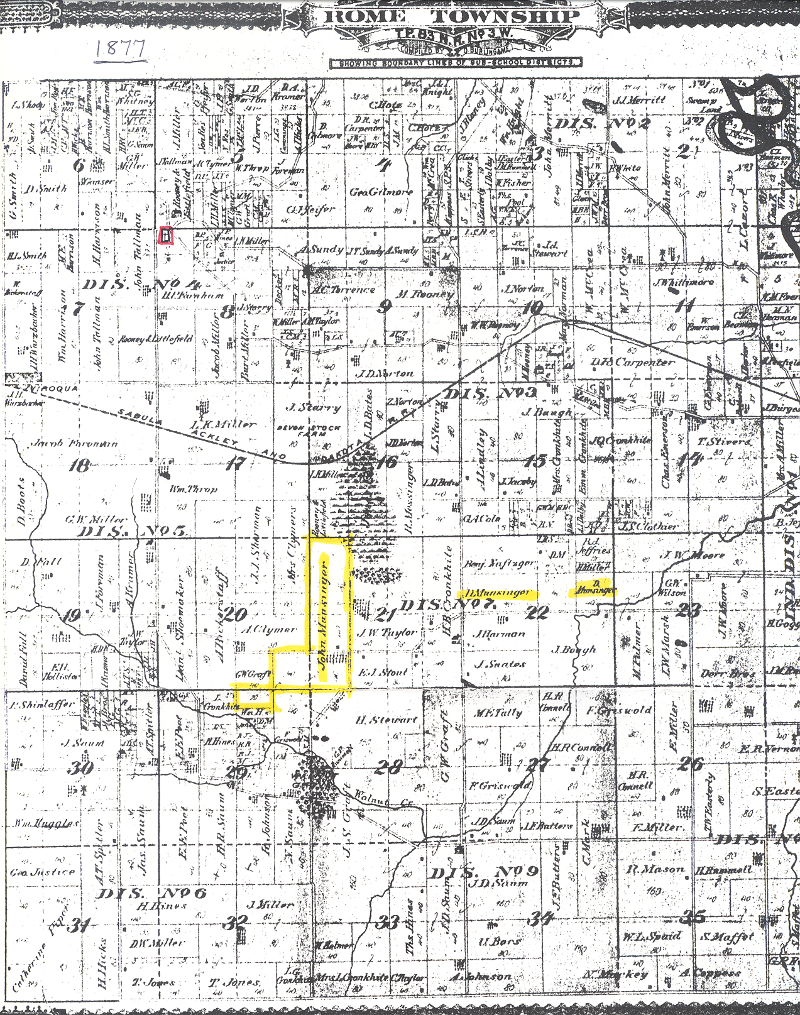 1877 plot map of Rome Township, Jones County, Iowa, showing the location of the John Munsinger and David Munsinger farms, and the Green Chapel cemetery
John Munsinger, circa 1890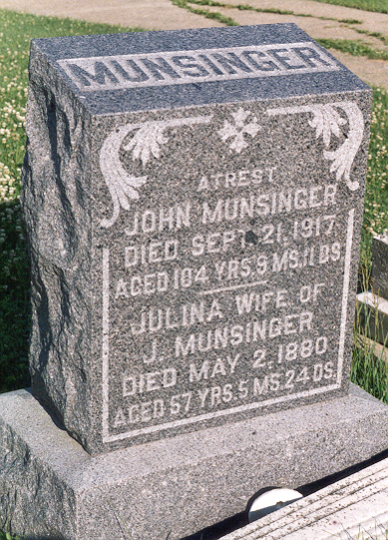 Headstone, Green Chapel Cemetery, Rome Twp., Jones County, Iowa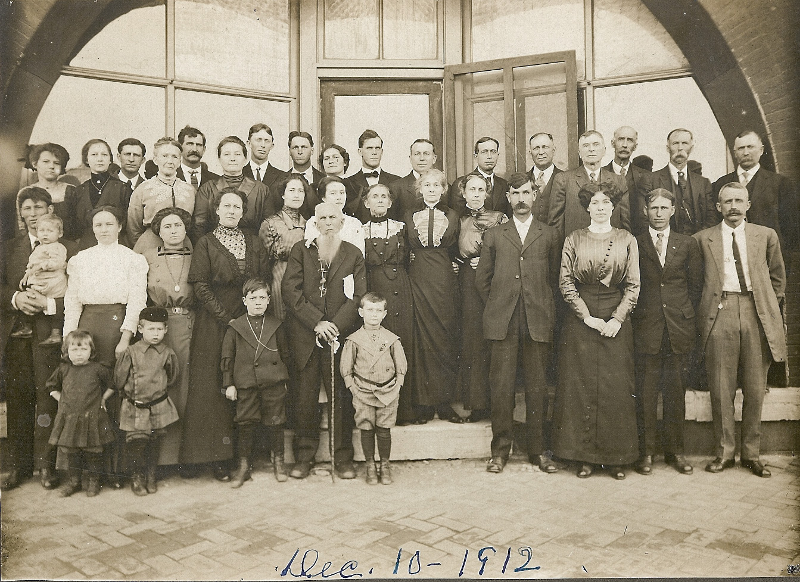 John Munsinger's "100th" birthday (it was actually his 95th), Howard, Kansas, December 10, 1912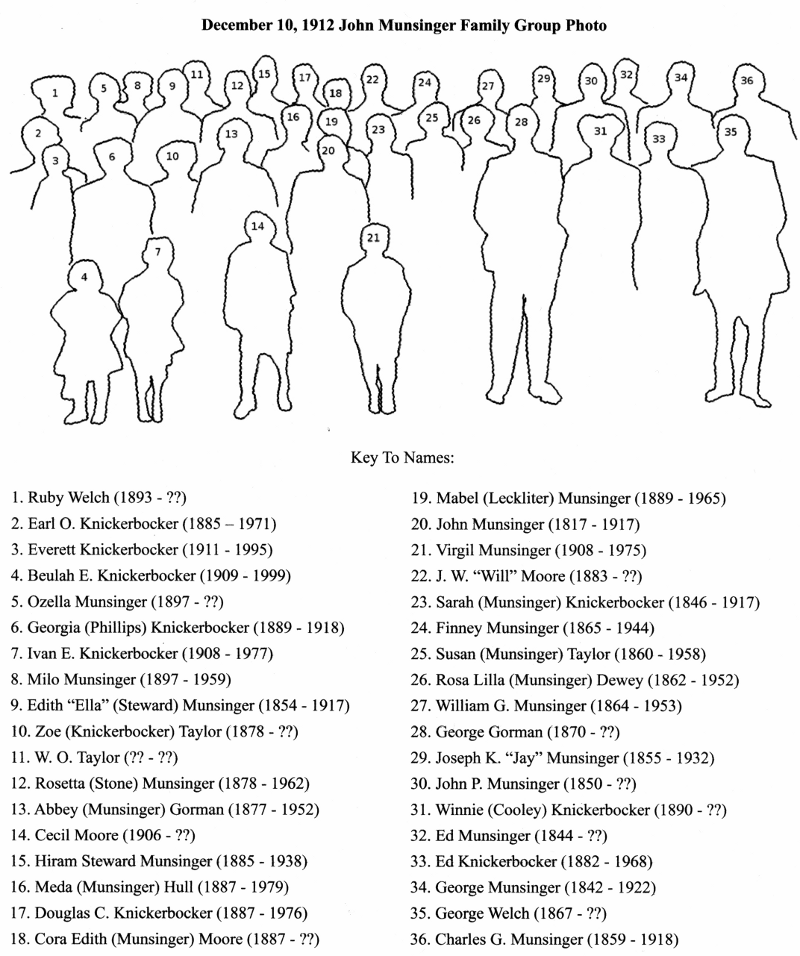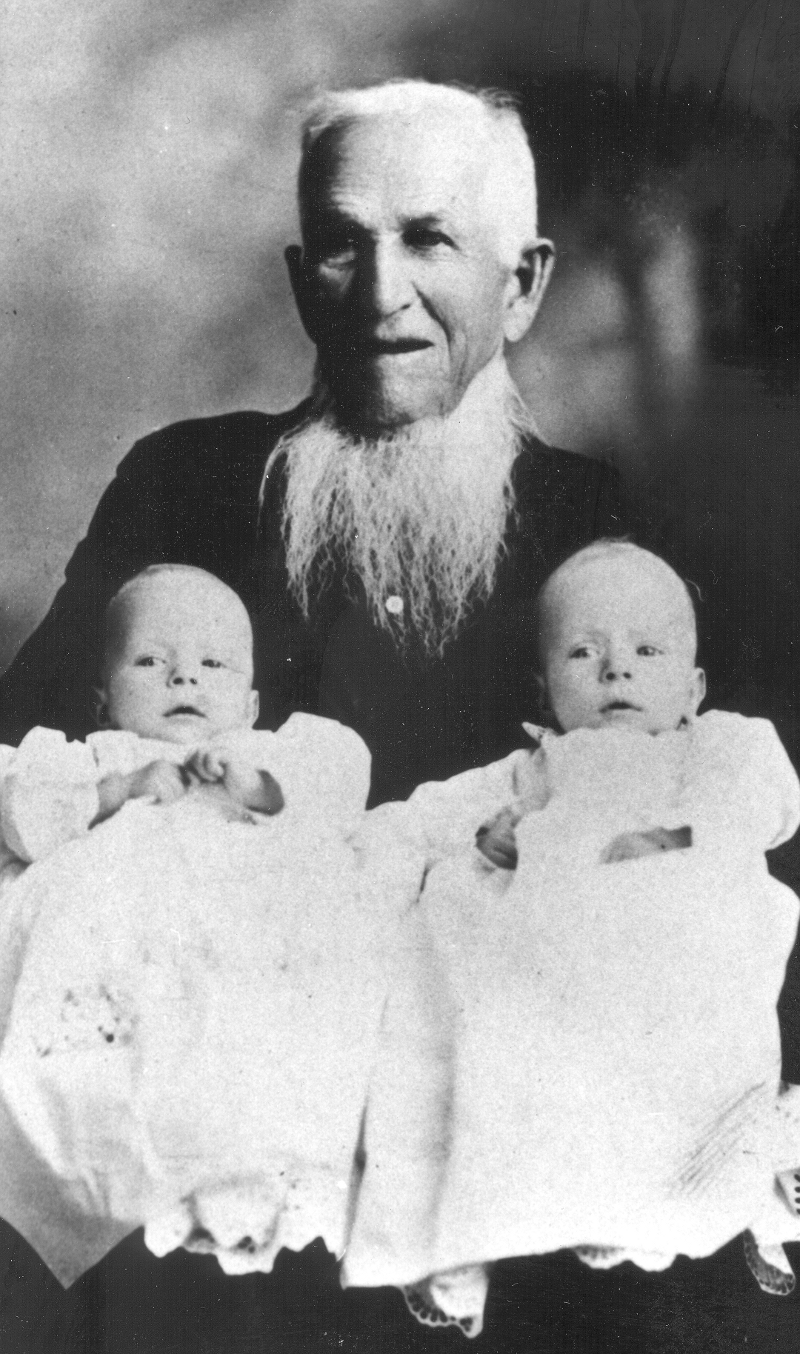 John Munsinger holding twin great-grandsons Ray and Randall Taylor, circa 1909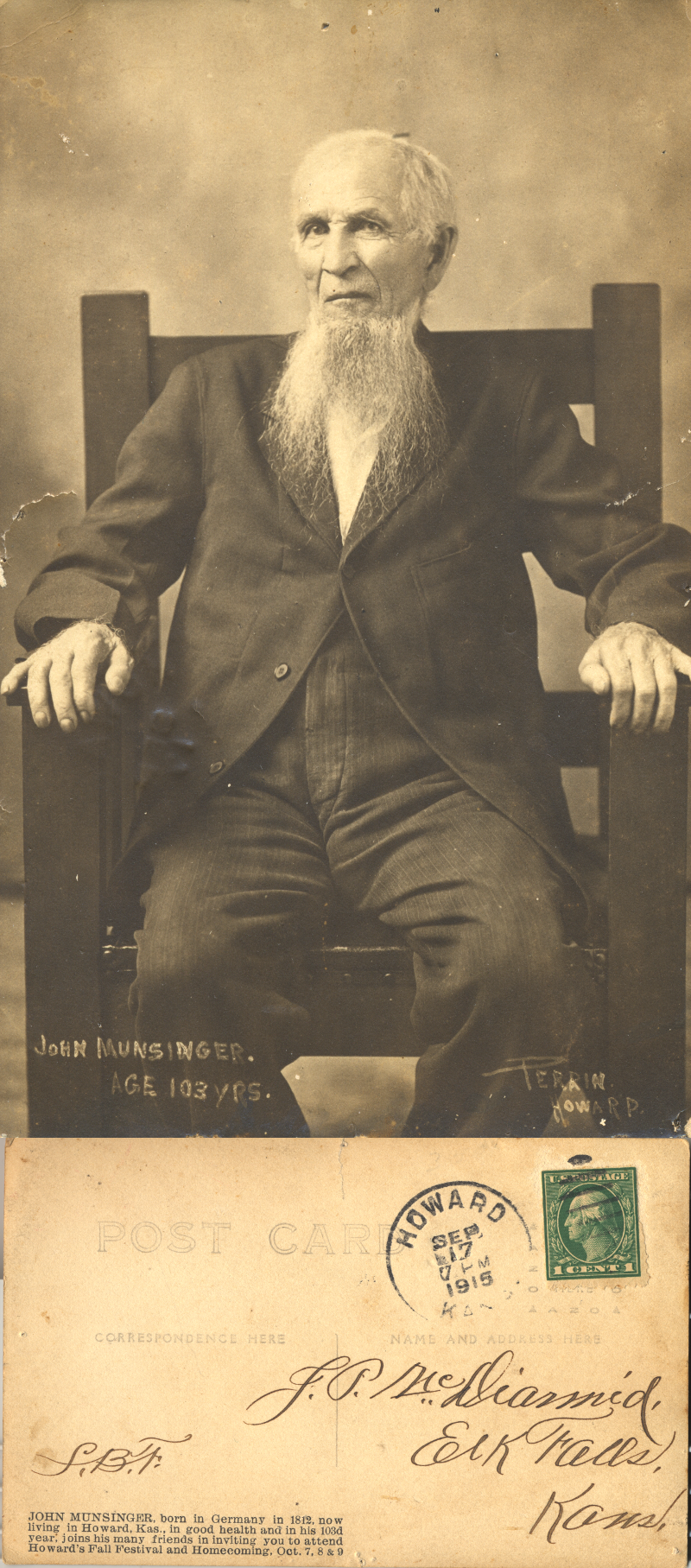 In 1915 a fall festival was planned in Howard, Kansas and as a promotional item poscards featuring a photo of "103-year old" John Munsinger were printed. An extremely generous postcard collector came across this card, recognized that it would be treasured by any living descendants, did an internet search and found this website, contacted me and then sent me the card at her expense. It restores my faith in humanity when such a kindness is done for a stranger.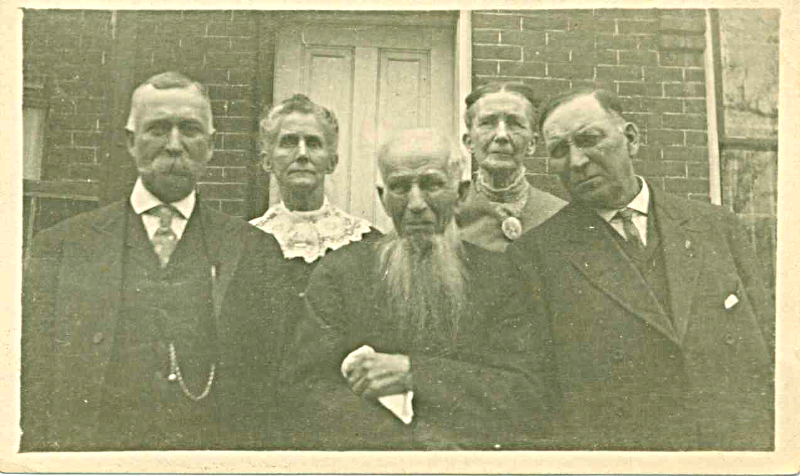 Charles (I think), Rosa, John, Ella (Steward) and her husband Joseph "Jay" Munsinger. Note on reverse indicates it was taken 10 DEC 1914, probably at Howard, Kansas.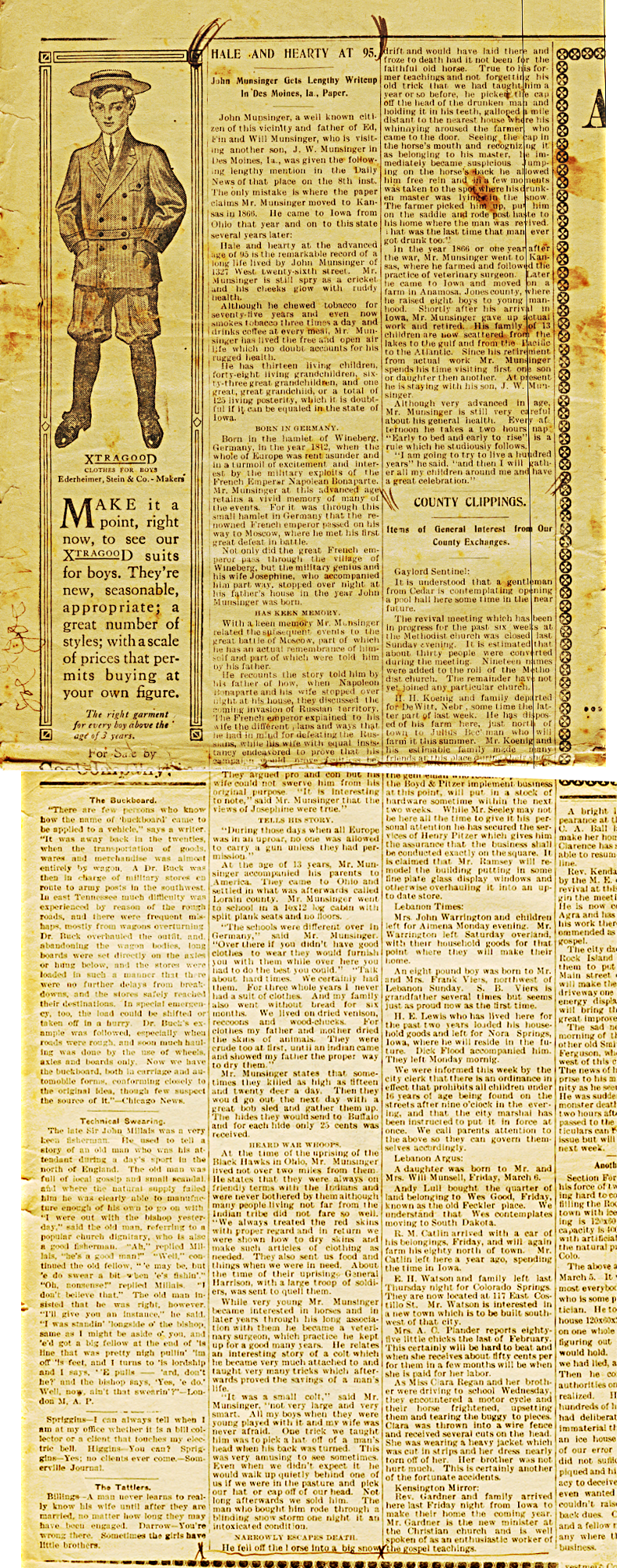 Article in Smith Center, Kansas, newspaper, about 1907 -- note numerous factual errors